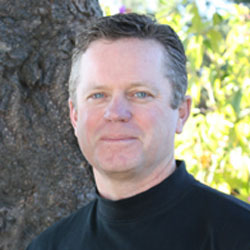 Dr. Gavin Carr, D.C.
Doctor of Chiropractic
Dr. Gavin Carr is a Palo Alto business owner and chiropractor that has served Palo Alto and the surrounding communities for over 22 years.
Gavin Walter Carr Jr. grew up in the community in which he serves today. He was born to Gavin Sr. and Patricia Carr in Redwood City in 1961. Gavin was the middle child and the only boy. Growing up Dr. Carr was particularly close to his mother Patricia. When Gavin was approximately eight years old his mother injured her back and was in a tremendous amount of pain. Dr. Carr clearly remembers he and his father taking his mother to see the family chiropractor the day of the injury. She was unable to walk on her own and had to be carried into the doctor's office. After the family chiropractor evaluated and adjusted his mother she was able to walk without assistance. He remembers "how cool" it was to see such a remarkable difference in his mother's condition in such a short period of time. This memory has stayed with him throughout his life and has been a catalyst in shaping his career choice.
Dr. Carr completed his undergraduate degree from University of California, Davis with a BS in Biological Sciences in 1985 and immediately went on to graduate in 1988 from the prestigious Palmer College of Chiropractic West in San Jose, California.
Dr. Carr believes his patients are empowered by understanding how their bodies function optimally and by implementing best practices to support this level of wellness and health in their daily lives. Dr. Carr has built his practice using the whole body approach. Dr. Carr administers care for more than just relieving pain. The ultimate goal is to restore and maintain the body's natural state of ideal health.
Dr. Gavin W. Carr, D.C. is committed to his patients, his community and his family. He and his friendly staff invite you to rethink what a healthy & active life means to you and your family.